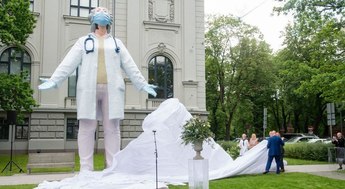 The coronavirus has dramatically affected all areas of daily life. The virus has accelerated the digital revolution, has become the starting point for a new ethics and has given rise to many conspiracy theories.
Nevertheless, many institutions and artists began to comprehend the new reality. For example, the theme of the 6th Ural Biennale is "Time to hug and avoid hugs," and the Garage Museum of Contemporary Art has launched the Reflection project, which aims to record the events of the day.
Our selection is a representation of the pandemic (in particular, COVID-19) and its individual phenomena in the field of contemporary art.